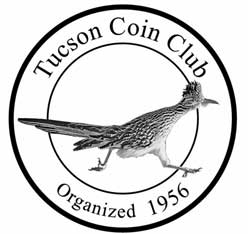 Arizona's Oldest Continuously Active Coin Club
---
The Tucson Coin Club meets every 2nd Tuesday (Business Meeting) and 4th Tuesday (Education Meeting) of every Month
from 7:00 pm to 9:00 pm. The Education Meeting offers presentations from members on his or her numismatic or currency
specialty. Every meeting offers such topics as "Show & Tell" and "Ask the Expert." Door prizes are also available to all attending
and raffle prizes up to $25.00. All visitors are welcome at no charge.

The Club Meets at the Fraternal Order of Police Hall
3445 North Dodge (Dodge & Rillito River)
---

---
<![if !vml]>


Be Aware! Urgent Alert!!
Fraudulent emails have been sent to some members asking for them to pay club bills. These are NOT from board members or the club!

You would NEVER be asked to pay a club bill!

Paying club bill is the responsibility of the Club Treasurer. If you get one of these emails, DO NOT open/click on any of the links. Send it to your server's phishing,
spam, or fraud department right away!!

We don't know who is behind these emails, and we don't want anyone to fall victim to them!

<![endif]>



September 25th Meeting
(Bourse Night!)


Members are encouraged to arrive at 6:00 pm to enjoy the food prior to "call to order."

A formal business session will be conducted at 7:00pm. After that session a break will be ordered and Bourse will begin.
After the buying, trading, selling session is complete the meeting will be called to order for Door prizes and raffle prices up to $25.00.

All visitors are welcome, no admission fee and free parking.



October 19th Meeting
The meeting will be held from 7:00 pm to 9:00 pm at the Fraternal Order of Police Hall. (3445 N. Dodge Blvd).
The meeting is to keep members abreast of current events in the numismatic community. The meetings are not only informative, educational and friendly,
but also delightfully informal and "tons of fun!" Every meeting offers refreshments, "Show & Tell" and "Ask the Expert." Door prizes are available to all
attending and raffle prices up to $25.00.

All visitors are welcome, no admission fee and free parking.






Needed! Education Meetings Speakers
If you are interested presenting to the club a 20 minute talk on any subject in Numismatics, or currency, contact Jack Weger: 906-4888.
Or email: Jack Weger.

Tucson Coin Club Shirts
Past President Albert Dreher is taking orders for the Official Tucson Coin Club shirt. You may order any color you wish. S, M, L, XL, XXL, XXXL.
$22.00 for shirts without a pocket, $24.00 for shirts with a pocket. Dreher has the catalogue, to review the color options.
T-shirts and long sleeve shirts are available at adjusting prices.
You can meet with Albert at a regular club meeting, or email: Albert Dreher .




Members' Contact Information Changes
Please be sure to let Newsletter Editor, Jane Stubbs know if your address or email has changed. Or write her at:

Tucson Coin Club
PO Box 17021
Tucson, AZ 85731
Emails and addresses are only used for club information!



Sunday, October 21, 2018
Contact Jerry Adamczyk (520-305-5513) or jerryaz631@gmail.com to purchase member, dealer tables.
Member pricing is $35/table and non-members pay $50/table.

Raffle Prize tickets, $2.00 ea. or 6 for $10.00. Drawing will be held at the March 18th Coin Show at 2:00 pm.
Winners do not have to be present tow receive prize. Awards to be announced.

PLUS! Members, if you can come and help set up the tables, chairs, and electrical, please do. Every extra hand makes the work go that much faster!
Thank you in advance! The other way you can help is by taking a turn at the reception table. You greet our guests, give each person a door prize ticket,
answer questions about the club or direct the person to a board member, and see if the guest would like to buy raffle tickets.
If children come in, they get a door prize ticket and an extra gift from our kid box.

Free parking, free Admission, Dealer buying and selling, coins currency and collectibles, free appraisals.


Tucson Coin and Autograph celebrating 40 years of business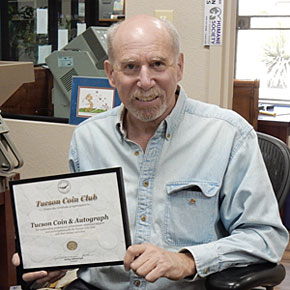 Tucson Coin and Autograph always matches any monetary donation up to $50.00, to:
The Community Food Bank of Southern Arizona,
Tu Nidito.
Casa DeLos Ninos.
The Alzheimer's Association.
The Fisher House.
The Cancer Society.
The Humane Society of Southern Arizona.

Owner, Brett Sedovenick
6350 N. Oracle Rd.
Tucson, Arizona 85704
520-219-4427
www.tucsoncoin@theriver.com


New Tucson Coin Club Advertiser
Jerry Fuller is ready to help you with anything Mexican money wise! He's got paper currency and gold or silver coins.
Check out the ad and remember to give Jerry a call if you or someone you know is in the market for Mexican dinero.
520-2453643 or tocallo@aol.com