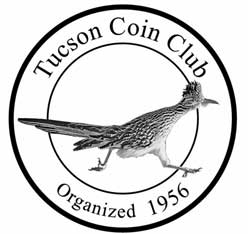 Arizona's Oldest Continuously Active Coin Club
---
The Tucson Coin Club meets every 2nd Tuesday (Business Meeting) and 4th Tuesday (Education Meeting) of every Month
from 7:00 pm to 9:00 pm. The Education Meeting offers presentations from members on his or her numismatic or currency
specialty. Every meeting offers such topics as "Show & Tell" and "Ask the Expert." Door prizes are also available to all attending
and raffle prizes up to $25.00. All visitors are welcome at no charge.

The Club Meets at the Fraternal Order of Police Hall
3445 North Dodge (Dodge & Rillito River)
---

---

Sunday, March 18th, 2018
At this point there are no tables available for this show.
There is at least one person on the waiting list for a table. Contact Jerry Adamczyk (520-305-5513) or jerryaz631@gmail.com
to purchase any cancelled dealer tables.

Member pricing is $35/table and non-members pay $50/table.

Show Raffle Prizes
1998 1/10th oz. Gold Eagle.
2012 Canadian 1/20th oz. Gold Maple Leaf.
1879 s Morgan Silver Dollar, NGC MS 64.
1987 Proof Silver Eagle.

Raffle Prize tickets, $2.00 ea. or 6 for $10.00. Drawing will be held at the March 18th Coin Show at 2:00 pm.
Winners do not have to be present tow receive prize.

PLUS! Members, if you can come and help set up the tables, chairs, and electrical, please do. Every extra hand makes the work go that much faster!
Thank you in advance! The other way you can help is by taking a turn at the reception table. You greet our guests, give each person a door prize ticket,
answer questions about the club or direct the person to a board member, and see if the guest would like to buy raffle tickets.
If children come in, they get a door prize ticket and an extra gift from our kid box.

Free parking, free Admission, Dealer buying and selling, coins currency and collectibles, free appraisals.

Come help with show set up at 6:30 on the 18th if you can. We were short-handed last show.




March 27th Education Meeting
The meeting will be held from 7:00 pm to 9:00 pm at the Fraternal Order of Police Hall. (3445 N. Dodge Blvd).
Member Richard Leisure will speak on "Snow White and the 7 Dwarves."



April 10th Business Meeting
The meeting was held from 7:00 pm to 9:00 pm at the Fraternal Order of Police Hall. (3445 N. Dodge Blvd).
The meeting is to keep members abreast of current events in the numismatic community. The meetings are not only informative, educational and friendly,
but also delightfully informal and "tons of fun!" Every meeting offers refreshments, "Show & Tell" and "Ask the Expert." Door prizes are available to all attending and
raffle prices up to $25.00. All visitors are welcome, no admission fee and free parking.






April 24th, Awards Celebration
Education Meeting will celebrate the Officers, Board Members Committee Chairman and Special presentations for the year 2017.
The meeting was held from 7:00 pm to 9:00 pm at the Fraternal Order of Police Hall. (3445 N. Dodge Blvd).
Come and join us for some good food; Drinks will be available at the FOP. And let's recognize the folks who keep our coin club running throughout the year.


Last Chance on Dues!!
If you are not sure if you've paid dues or not, look at the back of your membership card. If the sticker does NOT say "Expires Jan 31, 2019" you have NOT paid your dues!
We don't publish the names of those who owe, so please check your badge to see if you are heading off our list. You will have to reapply for membership to the club and be
voted in again once your request for membership is received, reviewed, your name is put in the newsletter for consideration, and finally voted on once again.

We're now down to just over40 members who have not paid their dues!
Dues can be paid at any meeting or sent
to the club at :

PO BOX 17021, Tucson, AZ
85731.

Or, contact Secretary Mark Stubbs at the only remaining meeting; March 27th.


A Letter from Jerry Adamczyk P.P.
Re: Green Valley Coin Show
Mission Accomplished! Great turn out for our show Sunday January 24, 2018. Our object was to have exposure for TCC Newsletter 3
Green Valley Coin & Stamp Club, and Tucson Coin Club. I could not have pulled it off without the help from both club members. My heartfelt thanks to:

Chuck Furjanic-Donuts
Bill Myers- Coffee
My wife Sherry
Brad Rutledge
Mike Hurley
Kevin Startt
Bill Shelton
John Payne
Larry Hamm
Mark & Jane Stubbs
Members of Green Valley Coin &
Stamp Club for set up, take down and
sitting at club tables.

If I forgot anyone, please thank you also. Green Valley Coin Club and the Stamp Club increased their membership by 4 or 5. Tucson C. Club passed out club literature and sold lots
of raffle tickets to be drawn at our March Show. This is how coin clubs survive and prosper with help from members, no matter how you step up large or small.
This is how our hobby survives. Thank you also to dealers for making the show possible, and keeping tables more affordable for the average collector.

Thank you to:
Tucson Coin & Autograph
Arizona Coins & Collectibles
Phillip Willmeth
Precious Metals Refinery
Barry Hughes
Fragner & Fragner
A special thanks to Peter Spooner for extra radio and social media ads.

Again I thank all of you for making this a
successful show.
Jerry Adamczyk, Past President.


Club Raffle Prize
Morgan Silver Dollar, 1900-0. NGC MS 65.
$1.00 per ticket, no limit on ticket purchase, and you do not have to be present to accept prize.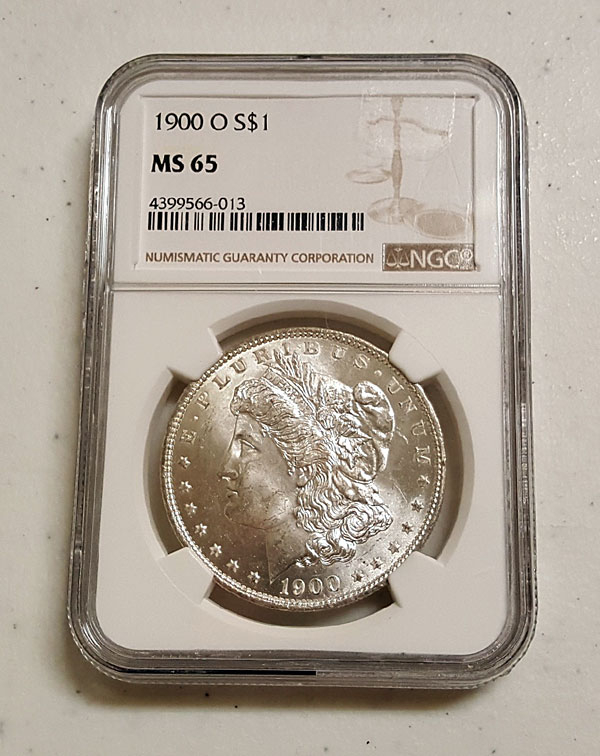 New Member Vote
Bob Cheney was voted into the Tucson Coin Club at the March 13th Business Meeting.
We have two people under consideration:
Dr. Art Friedman & Julio Ruvalcaba.



Tucson International Coin & Stamp Show Cancelled!
For further information: Tony Tumonis 520-323-8811.


Needed! Education Meetings Speakers
If you are interested presenting to the club a 20 minute talk on any subject in Numismatics, or currency, contact Jack Weger: 906-4888.
Or email: Jack Weger.

Tucson Coin Club Shirts
Past President Albert Dreher is taking orders for the Official Tucson Coin Club shirt. You may order any color you wish. S, M, L, XL, XXL, XXXL.
$22.00 for shirts without a pocket, $24.00 for shirts with a pocket. Dreher has the catalogue, to review the color options.
T-shirts and long sleeve shirts are available at adjusting prices.
You can meet with Albert at a regular club meeting, or email: Albert Dreher .

Members' Contact Information Changes
Please be sure to let Newsletter Editor, Jane Stubbs know if your address or email has changed. Or write her at:

Tucson Coin Club
PO Box 17021
Tucson, AZ 85731
Emails and addresses are only used for club information!


Tucson Coin and Autograph celebrating 40 years of business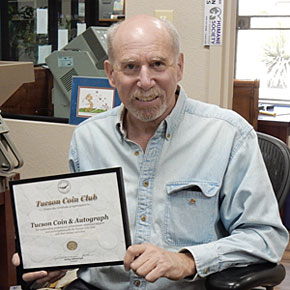 Silver Special
1 oz. silver Maple Leaf at spot +$1.50 per oz when you buy a roll of 25, that is the same as our 1oz silver round rate.
If want less than a roll they are on special for spot +$2.00 per oz, still less than our regular rate.
Gold Special
1/4 oz. Gold Libertad, Krugerrand, Maple Leaf and Canadian animal coinst at spot +4% when you buy for coins
The regular premium on these coins is 12% and up.
As always the special is limited to supply on hand and dates of our choosing.
Also announcing our new Saturday Specials, these are in store only so please no calls.
Tucson

Coin and Autograph

always matches any monetary donation up to $50.00, to:


The Community Food Bank of Southern Arizona,
Tu Nidito.
Casa DeLos Ninos.


The Alzheimer's Association.


The Fisher House.
The Cancer Society.
The Humane Society of Southern Arizona.


Owner, Brett Sedovenick


6350 N. Oracle Rd.
Tucson, Arizona 85704
520-219-4427
www.tucsoncoin@theriver.com